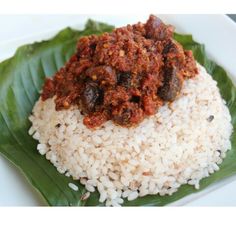 You bet, that's a big YES!
Most people love White/Polished rice because of its whiteness, appealing sight, the euphoria of being imported, fast duration of cooking, and its cleanliness, although Ofada rice may be lacking in those attributes, it has some amazing nutritional benefits. Ofada rice is Nigerian local brown rice grown in South Western Nigeria and can be made in different ways just like White rice but usually has an exclusive taste when served with fried peppered locust beans stew garnished with assorted meat!(WINKS)
Based on a study carried out at the University of Ibadan, Ofada rice is in every way better than the white polished rice because;
1. It has longer shelf life
Ofada rice has lower moisture content than white rice; this means that it can last for a longer period of time than the polished white rice without getting spoilt.
2. Higher protein Content
Ofada rice has higher protein content than other rice being sold in Nigeria including white rice
3. Has lower energy and carbohydrate content
According to the study, Ofada rice has lower energy and carbohydrate content than white rice, this explains why it is more suitable for weight loss than white rice.
4. Higher minerals
Ofada rice has higher potassium, phosphorus, Manganese, Magnesium and Iron content when compared with white rice and it also retains its minerals even after cooking. These nutrients are useful for healthy bones and also in maintaining healthy blood pressure
5. Richer in B-Vitamins
Ofada rice is richer in B-vitamins than white rice in both the raw and cooked form. This is because white rice has undergone polishing and has lost most of the B-vitamins that it contains. B-vitamins are important in carbohydrate, protein and fat metabolism, and they serve as co-enzymes; hence their presence in rice is beneficial to digestion and utilization of foods.
6. Higher Fibre Content
Ofada rice has higher fiber content because it is unpolished; this helps to reduce the risk of bowel disorders and fights constipation.
7. Reduces the risk of Type 2 Diabetes and cardiovascular diseases
In another research study carried out in Harvard School of Public Health, it was found that replacing white rice with brown rice helps to reduce the risk for developing diabetes and other cardiovascular diseases. Also because of its richness in fiber, it helps to protect against atherosclerosis and other cardiovascular diseases.
Hope you found this information useful? We would like feedback from you! And do you need a Dietitian/Nutritionist in achieving your nutritional goals? Kindly visit 'Our Services' page
Resources
http://www.journalrepository.org/media/journals/BJAST_5/2016/May/Thomas1622016BJAST25875.pdf
http://www.academicjournals.org/journal/AJB/article-full-text-pdf/52C1FA86880